The Rebound Effect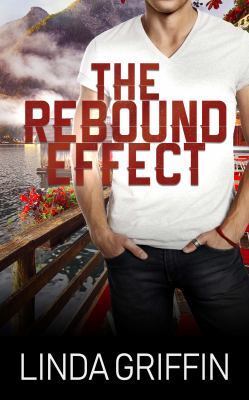 Whirlwind romance--cure for a broken heart, or prescription for trouble?
In the small town of Cougar, struggling single mother and veterinary assistant Teresa Lansing is still bruised from a failed relationship when Frank McAllister sweeps her off her feet.
Frank is a big-city SWAT officer who moved to Cougar only four months ago. He's handsome, charming, forceful, very sexy, and a bit mysterious. He had his eye on Teresa even before they met and is pushing for a serious relationship right away.
Teresa finds his intense courtship flattering, and the sex is fabulous, but she doesn't want her deaf six-year-old son to be hurt again. Her former fiancé cheated on her when he got drunk after being unjustly fired, but he loves her and her son, and the whirlwind romance is complicated by his efforts to win Teresa back.
And then there's the matter of the bodies buried at Big Devil Creek…
REVIEWS
"Well-written and entertaining." -- JoAnn S.
"The Rebound Effect by Linda Griffin is a suspenseful psychological thriller that did not disappoint. I read this story within a few days, not being able to put it down. I was riveted from the first page to the last. It flowed well, with plenty of suspense and moments of nail-biting as I read with anticipation of things to come. It was apparent almost from the beginning that Frank McAllister, the handsome and mysterious new guy to small-town Cougar, was a control freak. He wanted absolute control of Teresa Lansing, the vet assistant who was trying to move on from her cheating ex-boyfriend. When things became to get tense for Teresa, she started to pull back from her new relationship and Frank did not appreciate this new turn of events. Trying to balance her relationship with Frank, keeping her ex-boyfriend at arms' length, and caring for her young son, events start to turn frenzied and out of control. The last third of the book was the perfect crescendo to this spellbinding suspense story." -- Reviewed by Joanie Chevalier for Readers' Favorite
"First off this book reads more like a psychological thriller than a suspense/mystery romance but Wow what a complex, and suspenseful thriller it was. It will keep you turning pages far into the night. . I started and finished This book all in one day.I was shocked to learn that this is only the authors second book. It Caught my attention from the very first page and i could not turn the pages fast enough. I read mystery,crime & psychological thrillers all the time and this one kept me guessing right to the end. The characters are well developed, the plot well done and fast paced. The ending was totally mind blowing. Left me in total shock. I can not wait to read more books by this author. This is a book that every every single woman should read before they go on a date."-- Joyce Stewart
☆☆☆☆☆
A Real Page-Turner
Much of life doesn't have a happily ever after ending, and candidly, I find the concept in a novel unrealistic. So, most romantic suspense stories leave me annoyed. The Rebound Effect is more a psychological thriller than a romantic suspense story. The plot is tightly written, the dialog sharp, and the pace is fast; bordering on frenetic. This book is a real page-turner; albeit one I turned with trepidation, fearful as to what might happen next.Teresa, the main character, is a single mother of a deaf young son. A victim of betrayal by her long-term lover, Teresa is on the rebound and vulnerable when she is swept off her feet by hunky SWAT cop Frank. Despite her reservations, she allows the overpowering Frank to make decisions for her, rush the relationship to a level she is not ready for, and after a very short time, she agrees to marry him even as she is alarmed by some of his behavior. This story evoked strong emotions from this reader. Frank scared the heck out of me, I wanted to reach into the book and smack Teresa upside her head, and shake her ex-boyfriend Brett for screwing up so badly. My favorite part? The author threw a couple of red herrings that took my eye off the ball and I got the ending wrong. The Rebound Effect is one book that every woman in a relationship she's questioning should read. -- HollySusie
"There is no way in a million years that I would have guessed how this story was going to end. For that reason alone this book is worth the time to read. It is more of a psychological thriller romance than a suspense/mystery romance.
The synopsis does a really good job giving you an idea what this book is about. What it doesn't tell you is that the reader isn't left with a typical happily ever after. There is a twist that left me feeling like a pretzel with no book boyfriend to dream about. However, the story was uniquely refreshing. The story was a well written attention-gripping page turner from beginning to end. Given the circumstances I will say that the heroine, Teresa, was really the only character that I related to with out giving away spoilers. She was the one consistent character through out the book.
I can say that this book is like no other that I've read. I'm pretty sure this is the shortest review that I've ever written but I'm limited to what I can say because I don't want to spoil anything. Just go pick up a copy and find out for yourself why this book is one of a kind."--Long and Short Reviews
"...If a romantic suspense is on anyone's wish list, The Rebound Effect should be on that list. While at times readers may feel somewhat disconnected from Teresa due to her lack of trusting herself, one can't help but relate to her on some level. Frank is a force to be reckoned with. However, his unwavering devotion to Teresa from the minute he sees her is a little on the creepy side. This side shows itself repeatedly with Frank's obsessive personality and emotional abuse as the story unfolds. This book is one that will make readers really think about trust, whether it be in oneself or those one lets into the most private parts of their life." -- Alison Ellis, InD'tale Magazine July/August 2019
"This is one of the most original romantic suspense I've ever read...There were parts of the story where I gasped aloud...If you're looking for a suspenseful romantic thriller with a clear message for women everywhere, pick up The Rebound Effect today. -- N.N. Light's Book Heaven
"THE REBOUND EFFECT by Linda Griffin is an eerily frightening tale of mental abuse, instability and the bad choices we can make when one woman gets caught up in a rebound romance that she is ill-prepared to handle...It was anything but a relaxing read, and my tension was constantly on high alert for Teresa's next dangerous mistake...Ms. Griffin's writing style is personal, I was able to feel the characters were real, probably because I wanted to smack some sense into Teresa."--Dianne, Tome Tender Book Blog
"This book is...a high intensity read of a single mother on the rebound and the new man who comes into her life while women are disappearing in the area...The sense of danger and the high intensity of the emotions in this book keep you turning the pages...If you are looking for a domestic psychological suspense, this is a fast paced, high intensity read." -- The Romance Reviews
"A mysterious cop sweeps a single mother off her feet, but is this Romeo too good to be true? Unlucky-in-love Teresa Lansing isn't looking for romance when she meets Frank McAllister, a "disturbingly good-looking" cop who's just taken a new job in the small town of Cougar. But sparks fly immediately between the two, and before long the persistent Frank has won over Teresa. Yet the dream guy is not quite what he seems in this cautionary romance from Griffin (Seventeen Days, 2018)… Frank's gaslighting is disturbing—the author clearly has a handle on the warning signs of emotional abuse—and Teresa is sympathetically drawn. Even as it's obvious to readers that Frank's intentions are suspect, she never comes across as a fool for succumbing to his manipulations…The final confrontation between Teresa and Frank is legitimately frightening, as she discovers to what lengths he'll go to make her his. A love story that skillfully shows that abusers don't need to use physical violence to control their victims." -- Kirkus Reviews
"...I think it's actually a shame that it's been listed as romantic suspense as there are plenty of people who would enjoy this thriller who might be put off the idea of it being a romance...It was still a good read and once I got into it and saw where this story was going and that it was a thriller rather than a romance, I really enjoyed it.' -- Kelly-Jo Sweeney, Goodreads